NORTH AMERICA'S
FIRST GRAND PRIX PAINT HORSE.

During the 1997 show season, Mari Monda Zdunic and Double Darin Cody won the USDF All Breeds Awards for the American Paint Horse Association at Intermediare II, Grand Prix, and Grand Prix Freestyle. Cody is not the first unusual breed Mari has brought to Grand Prix level. To date, Mari is the firstto show Grand Prix in Norht America with an AppaloosaBILLY JOE FRECKLES, a Connemara TRE AWIAN DEVALERA, and an Arabian GAHALLA.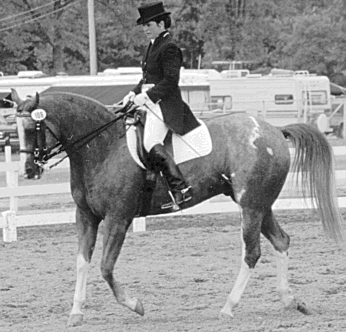 Cody, owned by Amy Mueller of Saginaw, Michigan, is featured in the 1999 American Dressage calendar.


Copyright ©1996, 1997 by Shine-A-Bit Farm; Brighton, Michigan- ALL RIGHTS RESERVED. Reproduction of text and/or photos for commercial purposes is strictly prohibited